A logo is the DNA of marketing.
DNA is a molecule that carries genetic information. It is the material that houses the information about how a living thing will look and function. In marketing terms this equates to a company logo.
A logo is a fundamental component of branding and marketing. Similar to DNA, it will establish the look and feel for all other branding and marketing efforts.
A logo includes a unique combination of topography, color, shape, and form that represents the core of an organization's brand. It is the starting point for all things that follow.
A strong logo is distinctive, yet intuitive all at the same time. It quickly conveys a company's purpose and supports the overall business strategy.
The right logo will help differentiate itself amongst a sea of competitors. It will allow the target audience to connect at an emotional level, while also imprinting on the audience so the viewer remembers the organization and it's purpose.
Logo design is a critical first step in formulating a solid brand and effective marketing.
Logo Design is a Long-Term Investment in Your Brand
Make no mistake, a logo is a long-term investment in your business. It should come before website design, brochure creation, or printing of business cards.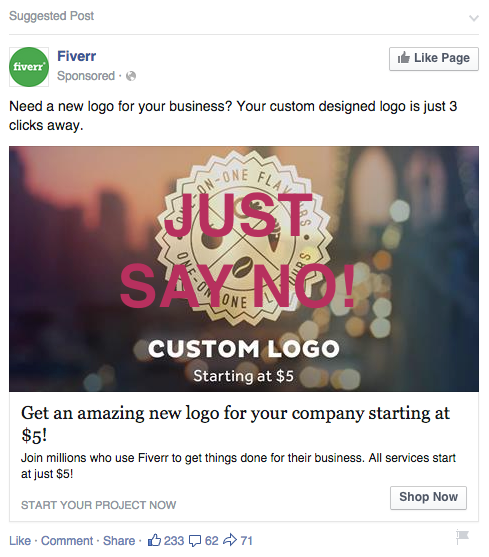 This week I had Facebook present me with an ad for logo design by Fiverr. Specifically the ad promised:
Get an amazing new logo for your company starting at $5.
This ad is 100% false advertisement. You will not receive an amazing logo that was created solely for your business.
Instead you will receive a logo that is a mash up of a stock emblem and your company name. It will not consider your company's purpose, culture, or target market. The color scheme will not be matched to your offering or those who purchase your goods and services. It will not be unique and it will not serve as the foundation of solid branding.
Worse yet, it might not be legal or use the appropriate copyrights.
A quality logo will need to be designed by a professional graphic designer. Someone who has formal education in design and who understands the importance of bringing fonts, colors, and shapes together into one cohesive presentation.
A solid logo will not cost $5. Instead you should expect to pay hundreds to thousands for design. This additional cost will be directly related to the time that goes into the design effort.
Professional logo design will start with discovery, the follow with multiple rounds of design review for typography alone. This will then be followed by multiple rounds of color review and selection. The final output will produce your logo in a variety of file types and be accompanied by a branding guide of fonts and colors used in it's creation.
Five Important Elements of Logo Design
When entering into the logo design process, we recommend that you keep five elements in mind.
Keep it simple – The more complex a logo becomes, the harder it is for the mind to digest and remember it. Keeping the logo design simple will allow it to be intuitive and remain meaningful. Consider the simplistic nature of today's most popular brands and you'll see simplistic logos are both popular and highly effective. Nike, Apple, and Twitter are just a few examples of simplistic design done right.
Spend time to explore typography – Selecting the right fonts is one of the most important steps in logo creation. It's so important that we start with colorless font choices for each logo design we do. The font used in your logo will carry over into your website and other marketing collateral. Selecting a font that is easy to digest and distinctive is key to creating a strong logo.
Consider color options carefully – Color can create an emotional response so it is best to carefully consider color theory in selecting your logo's color palette. In picking your color palette it is important to not only consider the emotional aspects of the choice, but also the international ramifications of color selections, their ability to be displayed on digital media like a website or social media profile, and how they may alter overall accessibility in digital display.
Make it memorable – If I asked you about the logos of NBC, Coca Cola, Google, McDonalds, eBay, or Ford Motor Company you would (or should) immediately have an image of the logo appear in your head. You've pulled this logo from memory and you were able to do so because it was memorable. It imprinted on you and it made a long-term impression. That is the ultimate goal and these organizations have all done an amazing job of creating memorable logos.
Remember versatility – Your logo will be used across a variety of mediums from traditional placement like stationary and business cards to digital properties such as websites and social media accounts. Make sure your final logo design will accommodate both traditional and digital usage. Tall vertical logos can be challenging to use in website headers, while very wide logos will present issues in social media usage.
If you hire a professional logo designer and you remember these five elements, the process will be exciting and productive all at the same time. If you take the time to work through design comp revisions with your designer, you'll end up with something that is pleasing to you and your target market.
Does Your Logo Need a Refresh?
A great logo will help provide a meaningful interaction that reinforces the who and why of you. We'd love to help create that image of you and your company. Let's starting working on your new logo together.