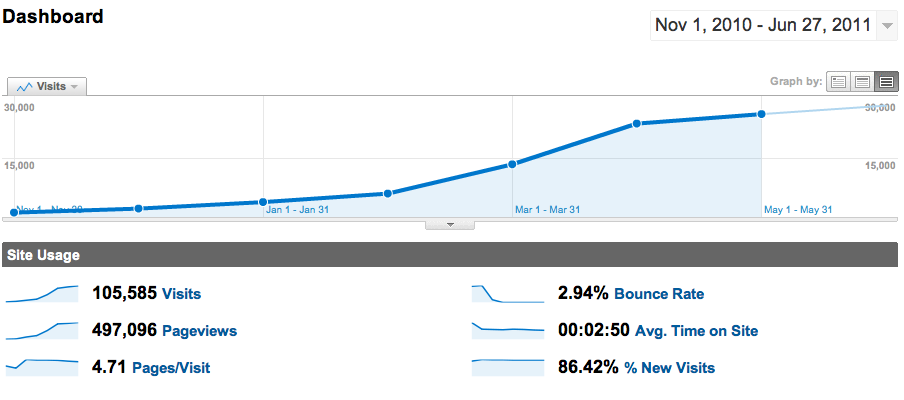 Client Profile
Client Size: SMB
Industry: Recruiting
Geographical: National
Scope: Website Design and SEO
Duration: Three Months
Project Results
In six months our SEO tactics took a brand new website with zero traffic and turned it into a website that is receiving 1,300 hits per day and this number grow each day.  The website is scoring for our long-tail search terms and their shorter, high volume counterparts on the same pages.  The website has a bounce rate of only 2% and their product is launching soon which will be the game changer.
Web Design and SEO Tactics
Complete keyword discovery prior to website launch
Focused on a very large number of long-tail keywords, but positioned website to obtain higher volume keywords with the same pages
Website and blog were mapped based on content silo and keyword groupings
Created new WordPress website
Focused on one keyword per page
Optimized title and meta description for each page and post
Deployed "related content" methodology to keep visitors on the website for as long as possible
Team Deliverables
Cornerstone content what would become sellable product
Unique content that would drive search traffic
Custom banners for conversations and call to actions
Why the SEO Worked
The client needed lots of unique content to make this work.  We gave the client a great WordPress website that was designed around SEO.  The client produced oodles of unique pages to fill the website up with great stuff.  At our suggestion, the client released a small amount of content each week so the search engines would continue to come back, crawl, and index pages.
And then came Google's Panda update. We are a white hat SEO house and we refused to let the client get sucked into content farms and cheesy article marketing.  We reinforced the value of good content that provided value.  Google agreed and the multiple Panda updates have only continued to help this website grow.