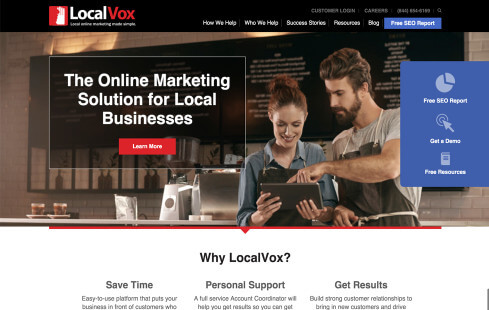 LocalVox
LocalVox is a simple, effective and affordable online marketing platform that helps local businesses be found by new customers. Their marketing services include deals, mobile, social media, maps, syndication, search, reviews, article writing, email and website design and development.
LocalVox services businesses of all types and sizes, including single location brick and mortar shops to multi-location franchises.
This project included custom website design and WordPress development. Our team creating custom post types for Marketing Case Studies, Resources, and Google Algorithm Changes as well as twelve different custom designed templates that include primary destination pages like Who We Help, Small Businesses, How We Help, Local Internet Marketing, and Free Tools.
Original Launch: 2016
Industry: Marketing
Target Market: B2B
Location: New York, NY
Project Type:
Website Design & Development