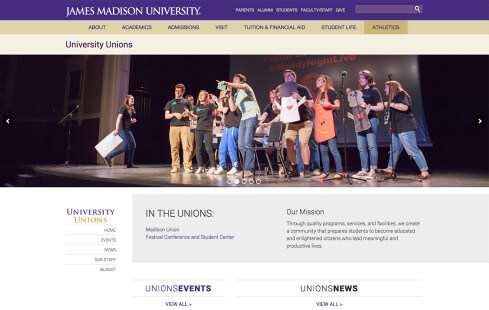 James Madison University
James Madison University (JMU) is a public research university that was founded in 1908 as the State Normal and Industrial School for Women at Harrisonburg.  The institution was renamed Madison College in 1938, in honor of President James Madison, and named James Madison University in 1977. James Madison University offers 115 degree programs on the bachelor's, master's, educational specialist and doctoral levels.
The university contracted Web Savvy Marketing to create a custom WordPress theme that could be used to create and/or redesign over a dozen university websites. Our custom Genesis child theme allows the university staff to quickly create and/or perform websites updates internally, while also providing a secure and robust framework to work within.
Original Launch: 2015
Industry: Academics
Target Market: B2C
Location: Harrisonburg, Virginia
Project Type:
Custom WordPress Theme Design