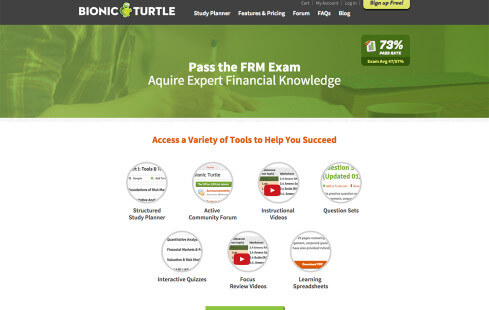 Bionic Turtle
Bionic Turtle is a long standing FRM course provider who offers a leading preparation program for the Financial Risk Management (FRM) certification course. Bionic Turtle's multimedia FRM exam preparation course includes a full FRM Study Planner that offers exceptional FRM materials and an active forum with over 30,000 members discussing FRM content.
Our project included course migration from Expression Engine to WordPress and SSO integration of the XenForo forum with WordPress. It also includes the integration of the LearnDash LMS plugin, WooCommerce subscription management, the creation of a number of custom post types, and search engine optimization.
This was a collaborative project that included Forty for graphic design, Uncanny Owl for LMS course set up and configuration, and NV Web Dev for XenForo SSO bridge integration.
Original Launch: 2015
Industry: Education & Training
Target Market: B2C
Location: Rancho Palos Verdes, California
Project Type:
Website Development & SEO